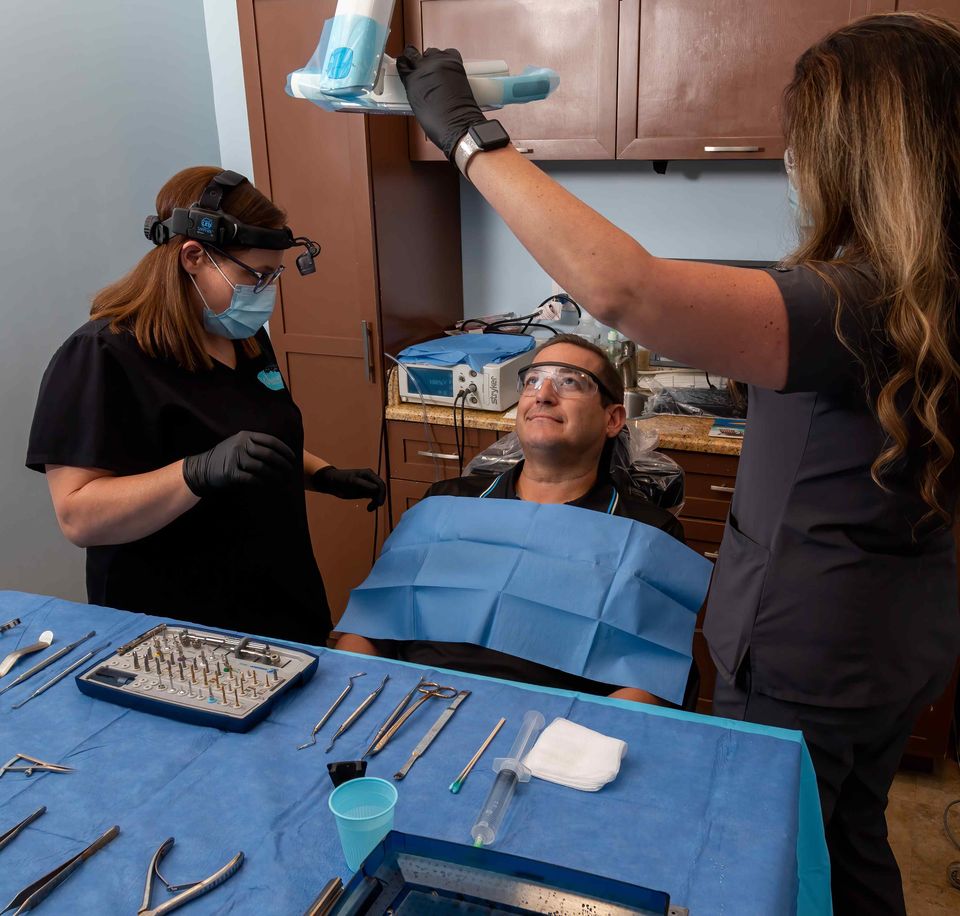 Dental Implants
Dental implants are game-changers because they create such a secure anchor for crowns and bridges that they're just as strong and functional as your natural teeth. Implants can also be used to retain dentures, giving you a comfortable fit. Dr. Lucia Covington at Waccamaw Oral Surgery & Medical Spa has extensive experience surgically inserting dental implants. To learn if you're a good candidate for an implant, call the office in Murrells Inlet, South Carolina.


What is a dental implant?
Dental implants are used to replace missing teeth. The implant is a small titanium rod that Dr. Covington surgically places in your jawbone. It functions as the root of your natural teeth, so it securely anchors a crown, bridge, or dentures.


What are the benefits of dental implants?
The most important benefits of implants — beyond improving your appearance by replacing lost or damaged teeth — include:
Stabilizing tooth replacement: Implants provide the same strength and stability as your natural teeth

Preserving surrounding teeth: Your jawbone — not neighboring teeth — supports implants

Maintaining alignment: Implants prevent neighboring teeth from shifting or moving out of alignment

Strengthening the jaw: A lost tooth can lead to jawbone deterioration; dental implants preserve bone density
Dr. Covington uses two top-quality brands, Zimmer Biomet dental implants and the ASTRA TECH Implant System™, and can insert a single implant to support a crown or multiple implants for several crowns, a bridge, or dentures.


What should you expect when getting dental implants?
The first step is a thorough dental exam and X-rays to be sure your gums and jaw are healthy enough to support a dental implant. If your jawbone is too soft or thin to keep a dental implant in place, Dr. Covington may perform a bone graft.

Dr. Covington usually uses bone grafting material that's biocompatible but may harvest a small amount of your bone. After the graft is attached to the implant area, it gradually fuses with the underlying bone, so you'll need time to heal before proceeding with the implant surgery.

The implant procedure begins with administering anesthesia — usually local anesthesia or sedation — then Dr. Covington makes an incision in the gum, drills a small hole, and screws the implant into the bone.

Over the next few months, your jawbone naturally regrows and fuses to the dental implant, creating a structure as solid as your original tooth.


How is a dental prosthesis attached to the implant?
The implanted rod stays just below your gum line. When it's time to attach your new dental prosthesis, Dr. Covington fastens a cap or abutment to the top of the rod, and the crown, bridge, or dentures attach to the cap.

If you need to replace missing teeth, a dental implant can be as secure and functional as your original tooth. To learn more, call Dr. Covington schedule a consultation.
Call Us For An Appointment