Aesthetic Referral Programs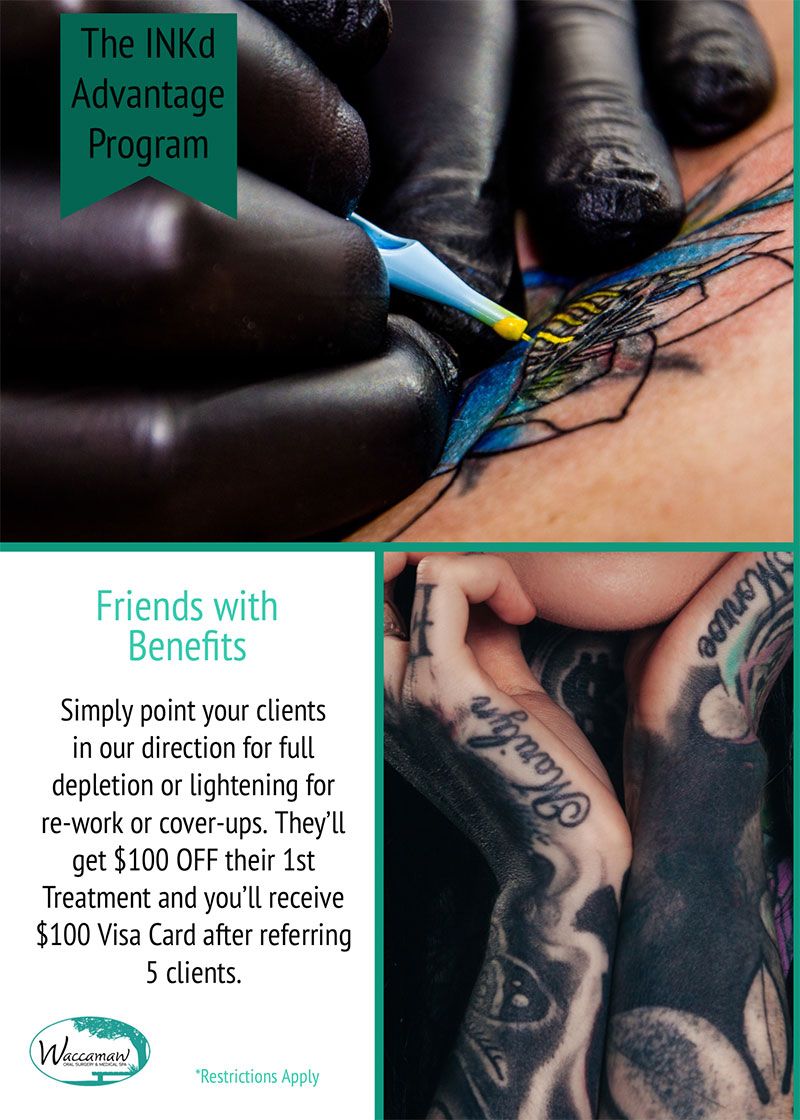 INKd Advantage Program
The INKd Advantage Program allows tattoo artists and Shop Owners to partner with Waccamaw Medical Spa's Tattoo Removal Experts. Simply point your clients in our direction for full depletion or lightening for re-work and cover-ups. Clients will get $100 OFF FIRST Treatment and the Artist will receive $100 Visa Gift Card after referring 5 clients. What's better than friends with benefits!

Restrictions Apply:
Referral Client has to bring this card completed with your Artist + Shop information to their first appointment in order for credit to be applied to your account.

Referral Clients must become an established account with a minimum of 1 Tattoo Removal Treatment rendered with a minimum $200 value prior to credit being assigned.

Referral Credits cannot be assigned to any current Waccamaw Medical Spa customers.

Only 1 $100 Visa Gift Card will be received to Referrer/Tattoo Artist/Shop Owner from a total of 5 new established customers with a minimum of 1 Tattoo Removal Treatment rendered at a minimum of $200 value.

Only 1 Referrer Credit will be granted per each new referral account. If multiple referrers claim the same referral, Waccamaw Medical Spa will have sole discretion to identify the referrer for such referral.

Waccamaw Medical Spa reserves the right to terminate any accounts of any referring customer and/or referrers if not compliant with restrictions.
Call Us For An Appointment