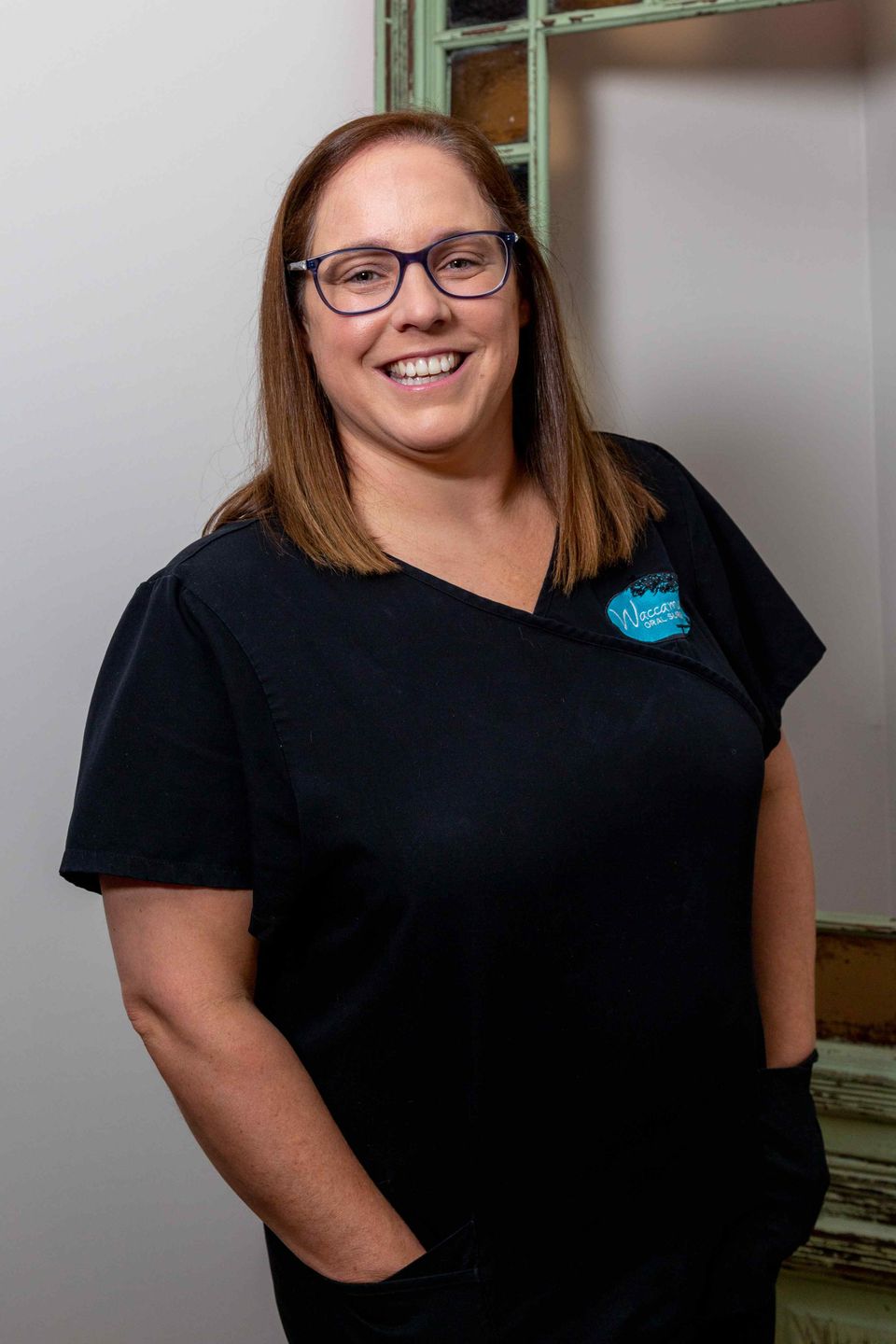 Dr. Covington
Dr. Lucia Covington places a priority on delivering gentle, compassionate care at Waccamaw Oral Surgery & Medical Spa in Murrells Inlet, South Carolina. She understands the anxiety that can accompany dental treatment, and she makes every effort to help patients feel at ease at her practice. Using the latest technology in a relaxed and environmentally friendly office, Dr. Covington works to maximize your health and enhance the overall appearance of your face including your smile.

Dr. Covington grew up in Manning, South Carolina, where her father, Dr. William F. "Bill" Rawlinson, Jr. practiced dentistry for 37 years. She received a Bachelor's Degree in Biological Sciences from The College of Charleston, and she then attended the Medical University of South Carolina, where she received her Doctorate in Dental Medicine in 2009.

While completing her oral surgery residency and specialty training in oral and maxillofacial surgery at MUSC, Dr. Covington received training in anesthesia, plastic surgery, trauma, general surgery, pediatric surgery, neurosurgery, and cardiology.
Her extensive core curriculum included anesthesia, physical diagnosis, and patient assessment. As a specialist in dentoalveolar surgery, she trained in teeth extraction, bone grafting, dental implants, temporomandibular surgery, orthognathic surgery, reconstructive surgery, and dental pathology.

Dr. Covington has been practicing facial aesthetics for ten years, and she has been offering Botox since 2013 and laser aesthetics since 2017. She is passionate about all aspects of cosmetic facial surgery and loves going to work and making patients look and feel their best. Dr. Covington and her staff's desire is to assess each patient's goals and offer treatment options via an array of devices and procedures which fits a patient's goals and comfort.

Dr. Covington's background in facial trauma and head and neck anatomy is what led her to start providing aesthetics in her office, which is now a Cynosure Center of Excellence.

Dr. Covington is a member of the American Association of Oral and Maxillofacial Surgeons, American Dental Association, and South Carolina Dental Association, Pee Dee Dental Society, Grand Strand Dental Society, past Vice President 2015 and President 2016, Georgetown Chamber of Commerce, and Murrells Inlet 2020. Dr. Covington's family members have served in many branches of the military; therefore, she offers her services through the Charleston VA Hospital. She has been voted "Best of the Inlet Oral Surgeon" from 2013-2022 and Trademark Women of Distinction in 2019.

Dr. Covington, her husband Wes, and their beautiful daughter live in Georgetown County with their two adorable Boston Terriers, Fynn and Sammy. Her hobbies include spending time with family, offshore fishing, tennis, basketball, painting, going to the beach, and traveling.

Dr. Covington strives to improve the lives of patients in the community, and she and her staff have instilled a culture in her practice of the utmost comfort and quality care. Dr. Covington is very engaged in our community and committed to numerous charitable organizations such as Children's Recovery Center, Lions Club, All 4 Paws, Murrells Inlet 2020, Toys for Tots, Downtown Pawleys Live, and Special Olympics. Dr. Covington also values the importance that education and extracurricular activities play in building a strong foundation for one's future. She sponsors Waccamaw Schools, Socastee Schools, St. James High School and Performing Arts, and Georgetown High School.